Noise & Vibration Consulting
Environmental Noise and Vibration involves measurement and evaluation of sources exterior to the walls of buildings that could impact the structure, occupants, or sensitive equipment.
Greenbusch is at the forefront of supporting owners and projects for airborne and in-water consulting services (Hydroacoustics), including the design and construction of new and renovated improvements such as tunnels, roadways, bridges, transit, water/wastewater facilities, pump stations, transfer stations, airports, terminals, data centers and other industrial and large-scale infrastructure projects. The firm builds and maintains an inventory of specialized equipment to provide monitoring services on demand. With decades of experience in the field, our highly qualified staff have been involved in multi-jurisdictional projects throughout the Pacific Northwest Region, and across the US.
SERVICES INCLUDE:
Noise and Vibration Measurement and Monitoring: Baseline surveys; On-site monitoring and analysis of vibration and airborne/underwater noise.
Environmental Noise Control and Analysis: 3-D computer modeling of transportation and industrial noise; Recommendations for mitigation to comply with Code and reduce community impact.
Permitting Support: Evaluate noise impacts, provide alternatives and mitigation options; Author Noise Sections for projects following SEPA/NEPA guidance process; Author Noise and Vibration Discipline Reports and Methodology Memorandums following FTA/WSDOT Noise Policy.
Community and Stakeholder: Meet with community and stakeholder groups to discuss outcomes of noise studies and reports; Translate technical concepts to graphics and understandable dialogue that addresses concerns about regulatory requirements and community concerns.
Noise Code Development: Assist with reviewing and developing code for jurisdictions; Peer review; Expert witness testimony.
Hydroacoustic Services:
Underwater Noise Monitoring Plans
Noise monitoring during construction
Background sound level measurement
Testing the effectiveness of noise mitigation measures, such as bubble curtains or pile pads
Sound Source Verification Measurements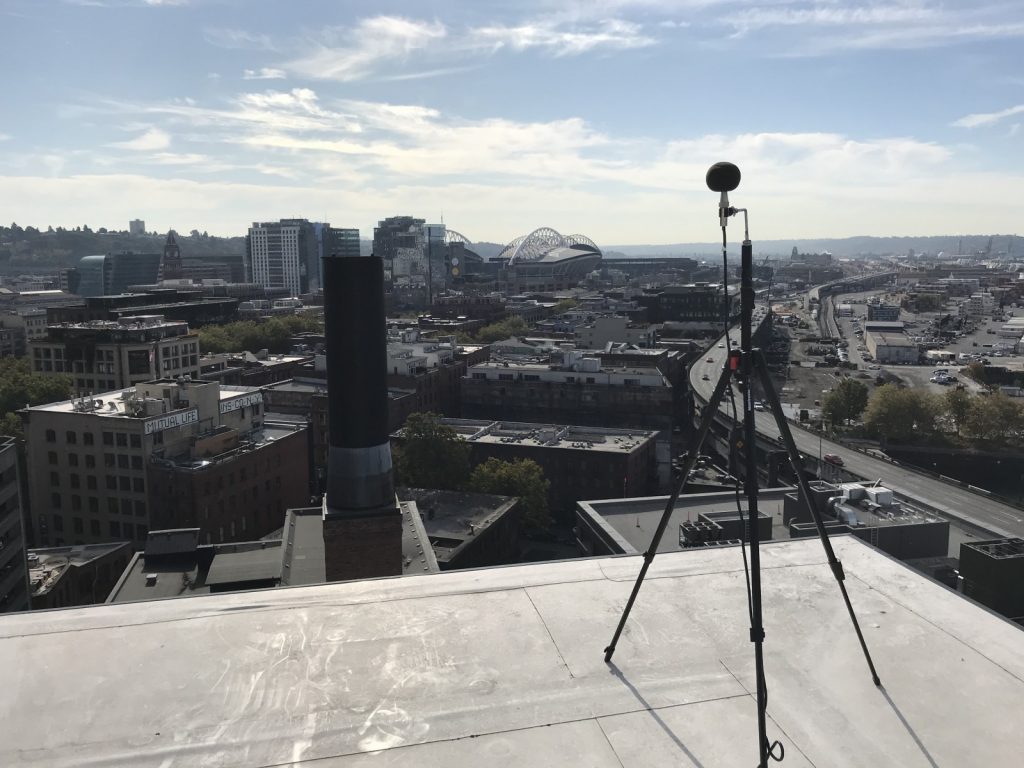 CLIENTS INCLUDE:
Sound Transit
City of Seattle
King County
University of Washington
Port of Seattle
State of Washington
Portland Public Schools
City of Portland / BES
Portland International Airport
AEC Firms: Jacobs, HNTB, KPFF, Tetra Tech, BHC, Brown & Caldwell, Anchor QEA, Kiewit, Stacy & Witbeck, Lydig, Sellen, Skanska, Howard S Wright, Mortenson Construction, Hoffman Construction, Orion Marine, Manson, Perkins+Will, NBBJ, NAC, Bassetti, Weinstein AU, Ankrom Moisan, BRIC, Mahlum, LMN, KMB, MacKenzie, ZGF, BCRA, Rolluda, Opsis, HEA